Navagraha (Nine Planets) Temples Tour in India:Tamilnadu
The Tamil Nadu Tourism Development Corporation announced on June 26, 1997 in Chennai, a `Navagraha Worship package tour', covering nine temples in the State dedicated to the 'Navagraha' deities. Pilgrims wishing to visit the temples dedicated to the `navagraha' deities can leave from Chennai on Friday night and return on Monday morning. The tour, priced at Rs 575 for adults and Rs 500 for children, covers the Vaideeswaran Koil (Mars-Angaraka), Thiruvenkadu (Mercury-Budha), Keezhperumpallam (Ketu), Thirunallar (Saturn-Sani), Kanjanur (Venus-Sukra), Suriyanar Koil (Sun-Surya), Thirunageswaram (Rahu), Thingalur (Moon-Chandra) and Alangudi (Jupiter-Guru).
Pilgrims can also visit the nine temples in two days, using a rental car, with Thanjavur or Kumbakonam, as the base camp. TamilNadu Tourism Development Corporation has a hotel called TamilNadu Hotel at Kumbakonam. The service at the hotel is excellent.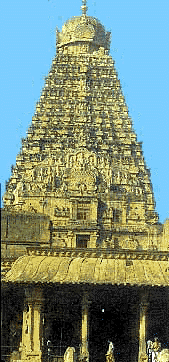 Thanjavur, Brihadeeswara Temple
How to get there
Kumbakonam (see location in South India map) can be reached from Chennai (earlier called Madras) International Airport by road/rail in a six-hour journey.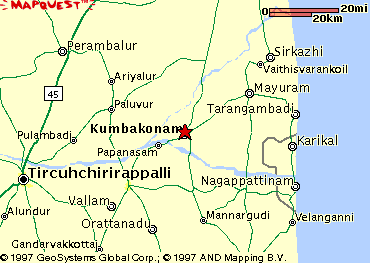 Suryanar Kovil (Surya, Sun) (near Kumbakonam)
The central shrine of the Suryanarkovil faces the west. Near the image of the Sun-god are placed those of Visvesvara and his consort Visaalaakshi. The figure of Brhaspati is set up in front of the central shrine. Shrines for other grahas are constructed round the central shrine.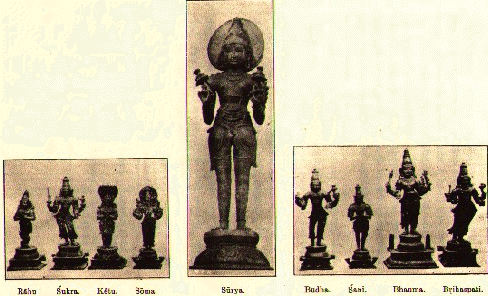 Bronze sculptures of Surya and eight other grahas, Suryanar Kovil

Vaideeswaran Kovil (Angaraka, Mars) (see map: Vaithisvaran Kovil, about 30 miles north-east of Kumbakonam)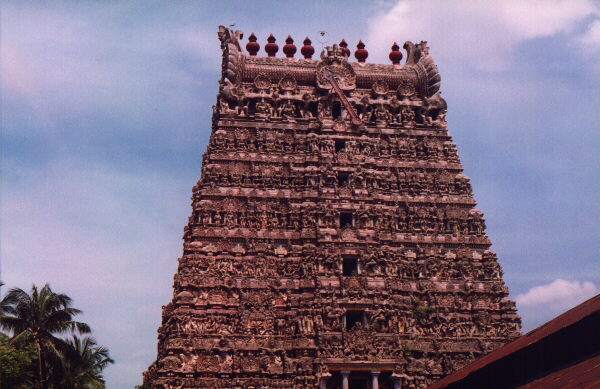 Vaitheeswaran Temple, Vaideeswaran Kovil

Tiruvenkadu (Budha, Mercury)
Near Chidambaram; Temple for Swetaranyeswarar and Aghoramurthy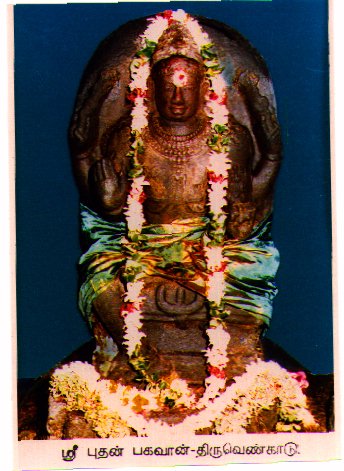 Kanjanur (Sukra, Venus)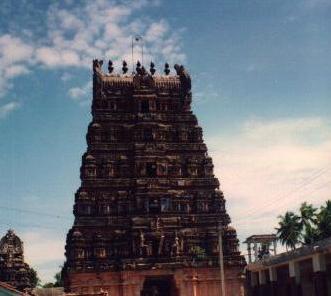 Agneeswarar Temple, Kanjanur


Naganathar Temple, Tirunageeswaram
Thingalur
The temple for Chandra (Moon) is located close to Kasi Viswanatha Temple at Thingalur which is near Tiruvaiyaru, Thanjavur District.
Home
Astrology
SolarSystem
GrahaTemples
SunTemples
Antiquity
Prayers